.
Albums, promos, photos, posters, stickers, bootlegs, signed, unsigned, videos, set lists... these are all the things that fans love to horde to prove their love for a band.... It's some primal urge that occurs in fans. We don't question it, we just accept it, and act upon it.
So, what 00:54 stuff is there to collect? Lots actually. Some I have, some I don't have, but I can say that my collection so far, is pretty decent :o) Here are a list of what 54 Seconds merchandise you can get your hands on.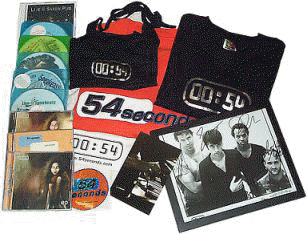 BUMPER STICKERS:
The latest bumper sticker is printed front & back :::> Buy it! ($1.00)
T-SHIRTS:
Black halter top - Silver 00:54 foil :::> Buy it!
Black - Silver 00:54 foil :::> *Sold Out*
Orange - "54seconds" logo:::> Buy it!
Red - Black/Silver speckled 00:54 logo :::> Buy it!
PHOTOGRAPHS:
FREELANCE: You can also collect things from each individual freelance work the band do. Check their individual bio pages for the bands they are involved with. This is what I have so far:
SPENCER:
Laura Scarborough CDs:
15 Seconds video clip from 1994 of Spencer singing unplugged.
STEWART:
GLENN:

Note* I do not profit from any of the "Buy It" links on this page. Where possible, they are direct links to the artist's online stores. Thank you to Heather for the Red T-Shirt logo image.
.[ In a Box ] [ Inspirations Winner ] [ My Thoughts ]
.