"Spencer Gibb's guitar playing is inventive and lush,
his voice is beautiful… clean and raspy and full of character.....
one of the town's most inventive guitar players, his haunting songs
are full of surprising depth and passion."
Name: Spencer David Gibb
Born: 21st September 1972, London, England (grew up in NYC, USA)
Instrument: Lead Vocals; Guitar (Les Paul) - Self taught
Other instruments: Bass guitar, piano, drums (enough to write a song)
Musical Influences: The Beatles, Joni Mitchell, Zeppelin, Stevie Wonder, too many to mention. (Check out the KO.OP radio transcript for more background information).
Favourite album by another artist: Court & Spark
Hobbies: Photography
My Thoughts: Spencer is a contradiction. He doesn't smile in photographs, yet he laughs all the time. Go figure!
.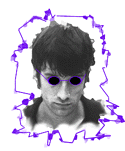 View Spencer's Photographic work!
.
Spencer's Story: Started writing songs when he was about 11-12 on piano/keyboards. At 14 he left school to become a professional musician. He first started playing in bands in England and was working as a solo artist for a long time. Moved to NYC where he dropped the keys in favour of the guitar. In 1990/91 he moved to Florida where he had a band. It was here that he wrote the following songs:
1994
Days Like These
Amber
Competition
Falling
Crazy Old World
Talk to My Angel
What Have You Done (Appeared in the movie "The Pompatus of Love")
Sad & Blue
Miami Blues (Appeared in the movie "The Pompatus of Love")
Water Into Wine
Press snippet regarding the musical score for The Pompatus of Love
"The film's musical score includes pieces of two tunes -- "What Have You Done?" and "Miami Blues" -- written and performed by Miami's own Spencer Gibb, who, as the film's press kit notes, is an unsigned artist. It's rare enough that a film uses original songs from unsigned artists; rarer still that one of those artists calls Miami home. Way to go, Spence." -- Miami New Times November 9, 1995

1994-95

For a few months Spencer was living in Woodstock, N.Y. It was then that he recorded the songs below.

Seeing Blue
Hoping It Won't Be Long
Let Me Down Easy

"Let me Down Easy", was later played by the Jez Spencer band and 54 Seconds have also recorded a "strange version" of it, and occasionally play it live. (Now that I have to hear it!!!!! <G>)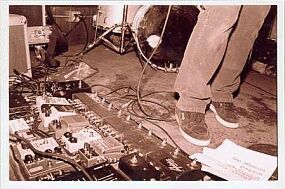 1996-97
Late 1996, Spencer made his move to Austin, where he began performing as Jez Spencer
(a solo project under a different name). On his first night in town, he met Will Sexton,
started playing with Bukka Allen, Glen Fukunaga, Mike Villegas, and Richard Bowden,
who all introduced him to the scene at the ARC (Austin Rehearsal Complex).
That's where he met JJ.
Within this first year in Austin, Spencer recorded a 9 song cd called "4-Track Mind" on
his 4 track machine at his home. Musicians credited on the album include,
Johnny Goudie, and Einar (I Love Elke), Stewart, J.J. Johnson, George Reiff, and of
course Spencer, who played lots of different instruments -- From keys,
bass and even drums.
For more information about the 4-Track Mind album, CLICK HERE
(Re-mastered re-released - 50 copies only).

Spencer plays guitar in The Laura Scarborough Project along with
Brannen Temple & John Sibenthaler. He co-produced & mixed Laura's latest album "Chapter One: Desire",
Spencer also plays guitar in Chris Kline's live band, along with Stewart.
.
Collaborations:
Blu Sanders: "Call Out Your Name" (B. Sanders/S. Gibb)
.
.
Other Links:
.
[ Glenn McGregor ] [ Spencer Gibb ] [ Stewart Cochran ] [ Guest Musicians ]
.