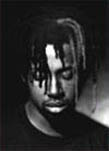 I love when Earl sits in for 54 Seconds. He is one of my favourite drummers (next to Brannen of course).
Earl has played for tons of different bands and artists.
He also plays on Laura Scarborough's latest album Chapter One: Desire. For a list of other albums CLICK HERE.

.

Below Right: Doing what he does best on stage at The Liquid Lounge, Dallas, TX - 7th March, 2001.