This is the ad-laden mirror site for poppyseed.fateback.com (for times when Fateback is playing up)
Monday music gigs are record deals
by Kris Pauls
-
June 17th, 2000: Getting into Austin's music scene is both a passionate endeavor and an expense. But a well-kept secret for saving money on live music is getting smart about when you go. Monday nights are the perfect chance to see a diverse array of music for a small amount of cash, and sometimes for no cash at all.
All three of our featured artists—Roger Wallace, 54 Seconds and Bob Schneider—have a residency, or standing gig, at a particular club every Monday night.
With such talent playing for chickenfeed, Mondays are happily a case of getting what you didn't pay for.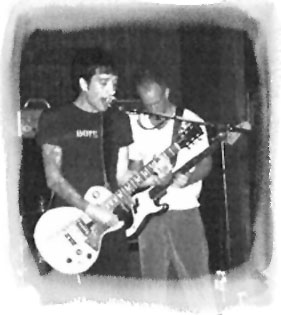 54 Seconds, Speakeasy 10:30 p.m.
According to the doorman at Speakeasy, the Monday night shows featuring local pop rock favorites 54 Seconds cost $3—unless he hasn't heard the band start sound checking, in which case, the cover is free. With a show beginning at 10:30 p.m., arriving half an hour early could convert that $3 saved into a drink at the bar, or even better yet, back into lunch money.
But even at a minimal cover charge, 54 Seconds is a bargain basement deal on music at Speakeasy, the back ally club known for its swanky ambiance, just as swanky clientele and cover charges upwards of $7 for cheesy lounge entertainment. Monday night is the most affordable you'll find this unique and lushly beautiful venue.
Even more luxurious than the dark wood interior is the voice of front man Spencer Gibb. He's been compared in the press to Radiohead's Thom Yorke, but vocally Gibb is less elusive and perhaps more vulnerable. The sound of 54 Seconds is more of a melancholy meditation on the pop music experience than the usual sugar coated melody nuggets one typically associates with pop rock.
Playing on this expectation, Gibb aptly named the band for an old music industry rule of thumb that states the ideal hit song can go no longer than fifty-four seconds before the hooky chorus kicks in.
But you'll find no static formula here. Gibb is the son of ex-Bee Gee [not EX-Bee Gee! J.] and now producer Robin Gibb, and although he inherited the family vocal chords, the application to 54 Seconds is all-new.
With his face dusted in glitter and his tattoo-sleeved arms emerging from under a T-shirt that reads 'Boys Lie', Spencer Gibb shyly leads his band of highly talented musicians through an understated set of songs. Relying heavily on the bass and drums, and accenting with keyboard-generated samples and effects, the sound is entrancing. Most of Gibb's lyrics are regretful, laced with a beautifully haunting sadness that comes from feeling too much. It brings to mind the work of Morrissey, but simplified to the human condition, not the ethereal.
Behind the band, a choreographed display of swirling geometric shapes and flowing colors is projected from a laptop computer. Several television sets are tuned to snowy screens atop the amplifiers. In conjunction with the music, the visual elements so carefully crafted show a sense of desired experience for the audience premeditated by 54 Seconds.
Gibb schools the pretty people of Speakeasy in bittersweet joys and deprecation, all smoothed over into a pop media experiment that is so sweetly successful.
Extract from: Campus Cents
-
-
[ARTICLES INDEX] [ INTRODUCTIONS ] [ CLUBCAST LIVE FEATURE ] [ KRIS PAULS REVIEW ] [ BIGJAM INTERVIEW TRANSCRIPT ] [ 20 TO WATCH ] [ KO.OP RADIO 97.1 - INSPIRATIONS ] [ CYBER-DRUM: BRANNEN INTERVIEW ] [ PRESS BITS & PIECES ] [ CHAT TRANSCRIPT ]
[site map]